Exterior – Toyota Tacoma
The new 2020 Toyota Tacoma near Pittsburgh features slim rectangular LED headlights this year (optional) that really give it a major styling point to start from. Bold wheel options include 16, 17, and 18-inch alloy wheel choices that beef up the stance of the model. Emblazoned on your grille in big block letters is Toyota, a name that you'll feel really positive about once you test drive the 2020 Toyota Tacoma near Pittsburgh. This beast is ready to tackle the trail after dropping the kids off at school. It's beefy, tall, and ready to declare its supremacy over other pickups.
*Not actual vehicle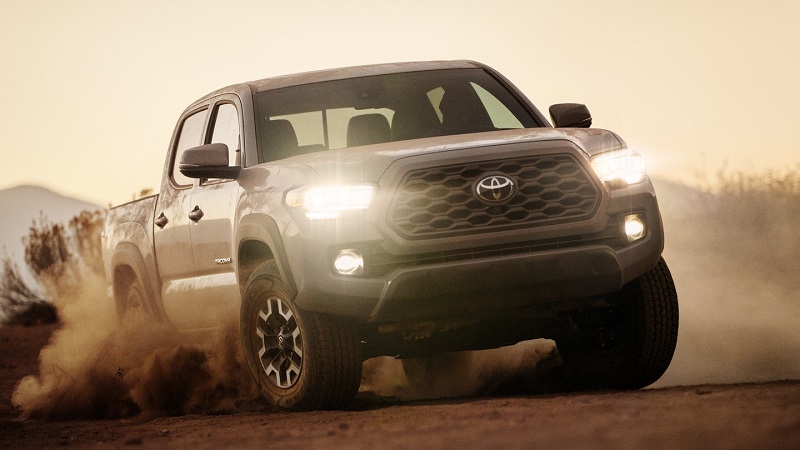 Mechanical – 2020 Toyota Tacoma
With a Tacoma, it's all about the power. When you want a great off-road setup in a pickup truck, we all know that the Tacoma offers one of your premier mechanical setups. Its powertrain this year includes a 3.5-liter V6 Gas rated at 275 horsepower and 265 lbs-ft of torque for the perfect off-road configuration. You'll find that you get either a manual 6-speed transmission or a 6-speed automatic. Both are worthy partners to the more powerful engine option. The base model's 159 horsepower option is by no means underpowered, either, as it's your off-road equipment that best suits you to conquer rough terrain, and you get plenty of that on any model you choose.
*Not actual vehicle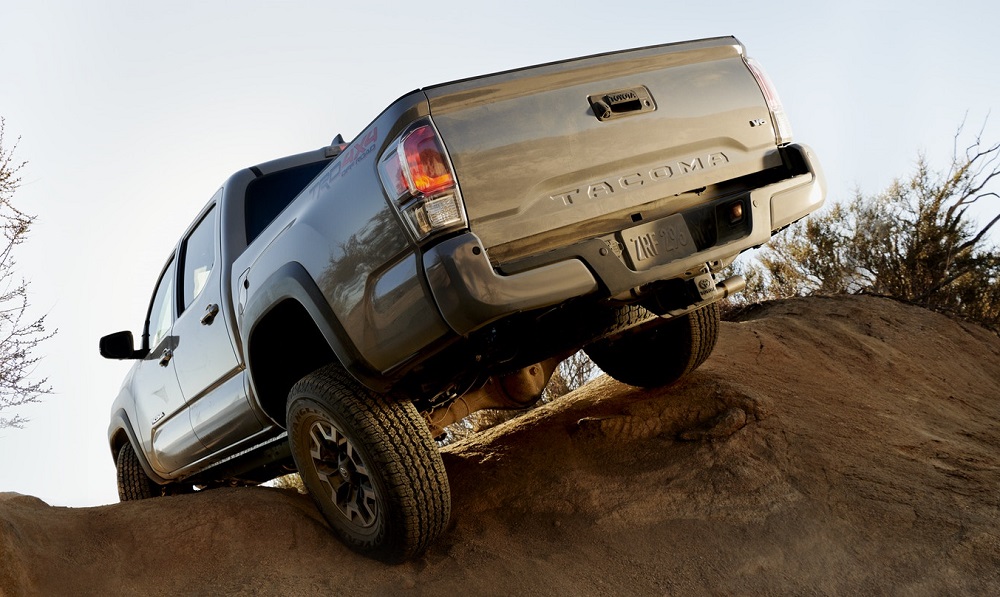 The Technology & Safety Features – 2020 Toyota Tacoma
The Tacoma is catching up with the times on technology, and we're thrilled that we can now include it as a truly tech savvy pickup truck. Its new larger touchscreen infotainment system will thrill anyone who wants to take advantage of its entertainment, navigation, and camera views. You'll also want to check out the Premium JBL audio system available on this year's Tacoma. It really strikes a powerful note on musical goodness. It's nice to see the Tacoma outfitted in these new technologies. So often off-road trucks are content to be just that, while the Tacoma continues to expand its specialties and grow into a much more useful truck. This year, you'll get Android Auto and Apple CarPlay standard, two features we've been dying to see on the Tacoma for a long time now.
The Tacoma features a wide variety of driver-assist features this year, and we'd count it among the safest trucks in our lineup. Thanks to features like parking assist and blind spot monitoring, you can really feel safe inside your truck, even when you're heading out to the toughest trail. Its rich line of safety features make it a truck we can recommend to families as well. We know you want to protect your family. The Tacoma's tough build and its driver-assist tech make it the perfect safe haven for your family. The off-road models feature practical safety features like 16-inch TRD Pro black alloy wheels with Goodyear Wrangler All-Terrain tires for a firm grip on any terrain you encounter.
Trim Levels
SR
SR5
TRD Sport
TRD Off Road
Limited
TRD Pro
For the ultimate Tacoma off-road experience, please pick the TRD Pro! It's a little more than the other trims, but you'll find that with our specials, it's easy to afford. Just ask about any of the amazing trims you are interested in. We'll set you up with a test drive.
Request 2020 Toyota Tacoma Specials in Hermitage serving Pittsburgh, New Castle PA
We're so happy to be serving Pittsburgh New Castle Mercer customers with another year of exceptional service and deals on trucks just like the 2020 Tacoma. We invite you to come down here and visit us to test drive this massive off-road beast! Just browse through our trim selections to pick out the Tacoma that suits you best.