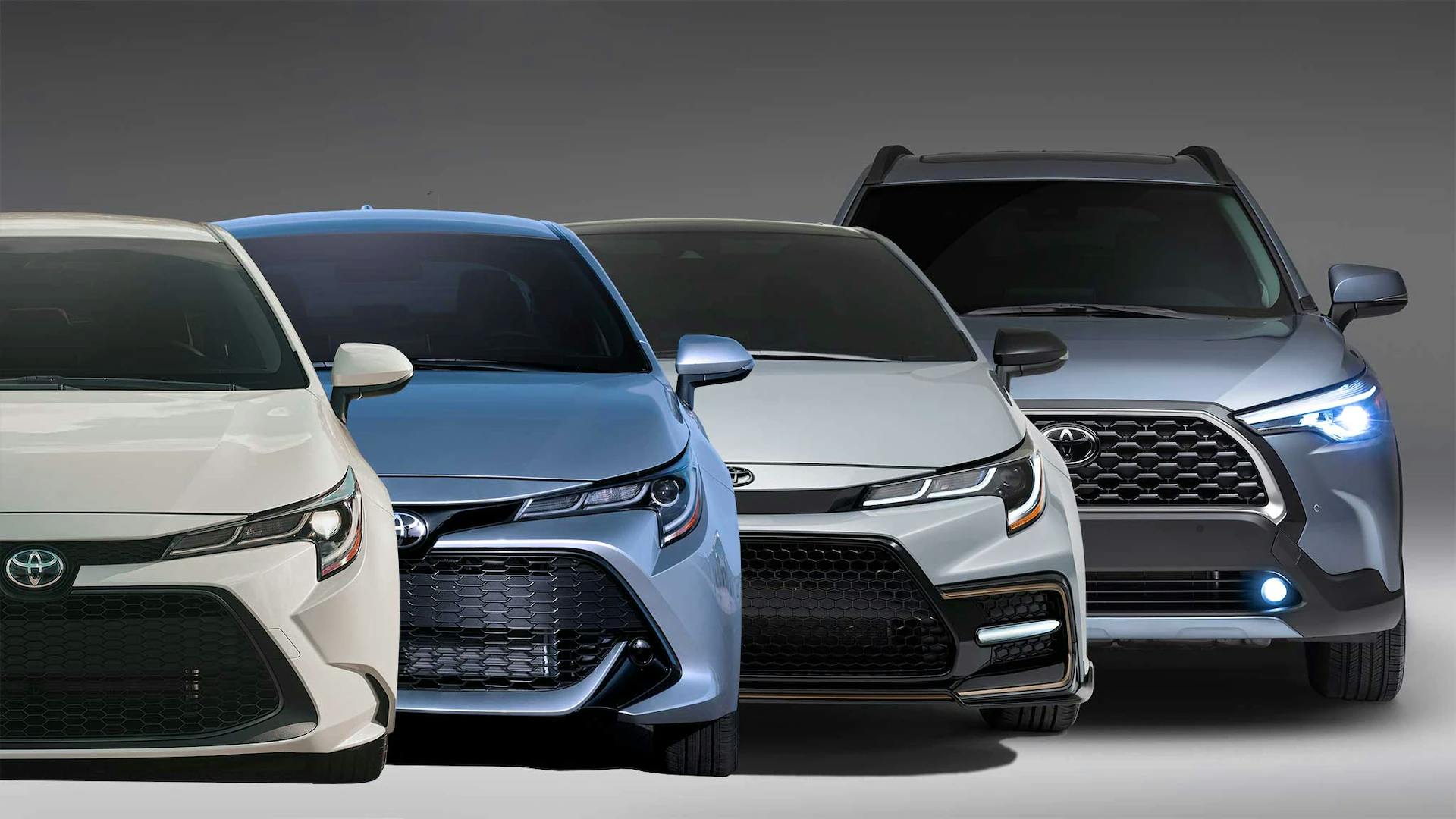 The Toyota Corolla and Corolla Cross: Elevating Versatility and Style
Toyota's Corolla lineup has long been synonymous with reliability, fuel efficiency, and practicality. Over the years, this iconic nameplate has evolved and expanded, offering drivers a diverse range of models to suit their individual preferences. Let's explore the renowned Toyota Corolla and its versatile sibling, the Toyota Corolla Cross, highlighting their key features and what sets them apart.
Toyota Corolla: The Epitome of Practicality and Dependability For decades, the Toyota Corolla has captured the hearts of millions worldwide with its exceptional reliability and functional design. The Corolla sedan continues to be a popular choice among drivers who value spaciousness, fuel efficiency, and a smooth, comfortable ride. With its refined interior, advanced safety features, and a reputation for longevity, the Corolla sedan offers a winning combination for everyday driving needs.
Toyota Corolla Cross: The Perfect Fusion of Style and Versatility the Toyota Corolla Cross, a relatively new addition to the Corolla family, brings a fresh perspective to the compact SUV segment. With its sleek and stylish design, the Corolla Cross boasts an elevated driving position, improved ground clearance, and a versatile cargo space that suits active lifestyles. It combines the practicality of a crossover with the renowned Corolla DNA, offering drivers a refined and comfortable driving experience, along with added flexibility for adventures.
Interior Comfort and Technology: Both the Corolla sedan and Corolla Cross prioritize driver and passenger comfort, providing well-appointed interiors and an array of modern technology features. The Corolla models offer spacious seating, quality materials, and intuitive infotainment systems with smartphone integration. Whether you choose the sedan or the crossover, you can expect a refined cabin that enhances your driving experience and keeps you connected on the go.
Performance and Efficiency: The Toyota Corolla lineup offers a range of powertrain options to cater to diverse driving preferences. The sedan models come with efficient gasoline engines, while the Corolla Hybrid combines a gasoline engine with an electric motor for enhanced fuel economy. On the other hand, the Corolla Cross delivers a responsive and efficient performance with its advanced hybrid powertrain. Drivers can choose the model that best suits their needs, whether they prioritize power, fuel efficiency, or eco-friendliness.
Safety and Reliability: Safety has always been a top priority for Toyota, and both the Corolla and Corolla Cross models reflect this commitment. They come equipped with Toyota Safety Sense, a suite of advanced driver-assistance features that includes pre-collision systems, lane departure alert, and adaptive cruise control. With their solid build quality and long-standing reputation for reliability, the Corolla models offer peace of mind and a high level of dependability on the road.
The Toyota Corolla and Toyota Corolla Cross represent two exceptional choices within the Corolla lineup, each catering to different preferences and lifestyles. The Corolla sedan remains a trusted and practical choice, perfect for those seeking a comfortable and efficient daily driver. Meanwhile, the Corolla Cross offers a stylish and versatile option, blending the practicality of an SUV with the familiar Corolla traits. Whichever model you choose, you can expect Toyota's signature quality, reliability, and a driving experience that exceeds expectations.
Click Here to pick out your Toyota Corolla or Corolla Cross here at Diehl Toyota of Butler!
Back to Parent Page