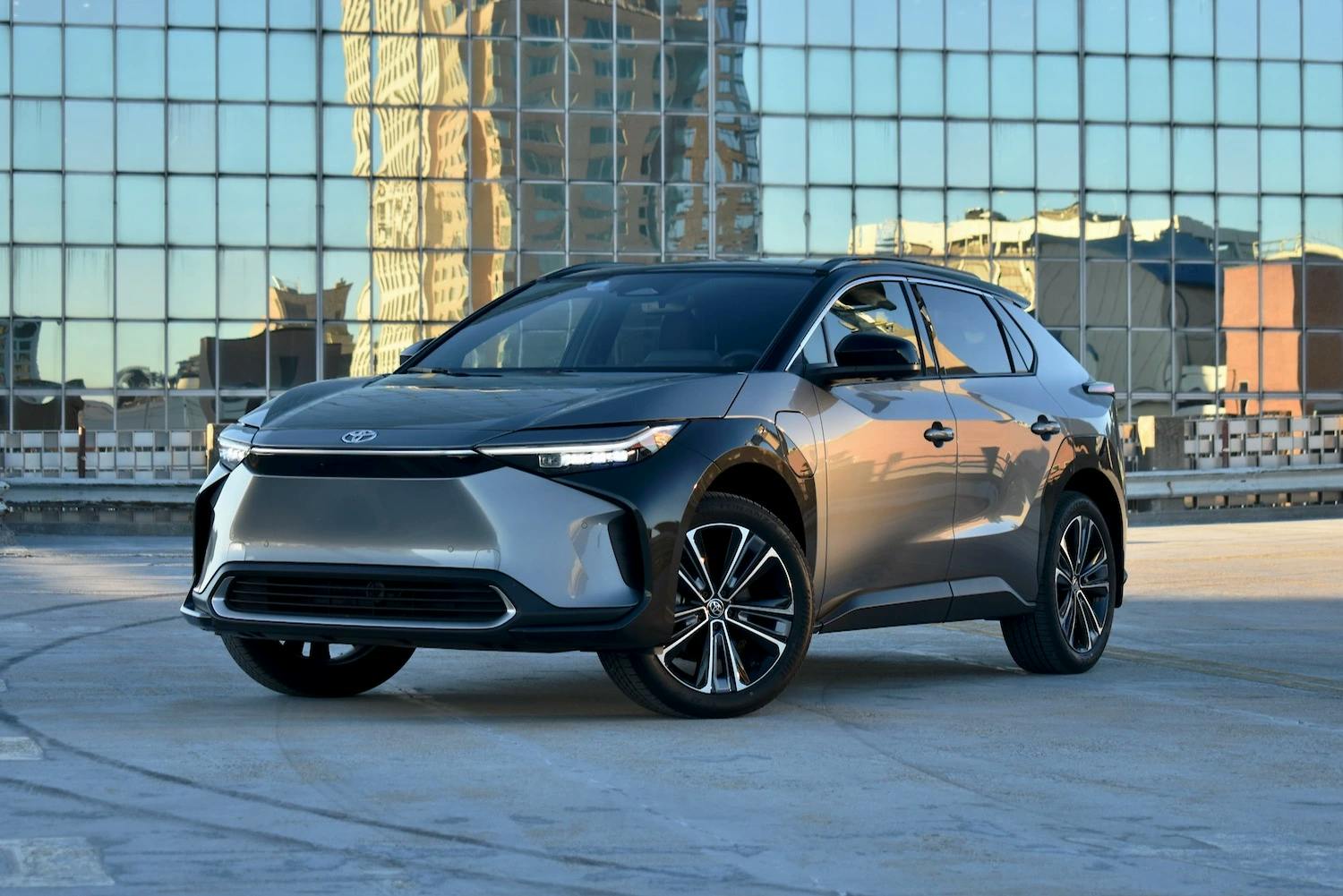 Introducing the Toyota bZ4X: A Futuristic All-Electric Crossover SUV
The Toyota bZ4X is an all-electric crossover SUV that is part of Toyota's new lineup of electric vehicles under the "BZ" series, which stands for "Beyond Zero." The bZ4X was first introduced as a concept car at the Shanghai Auto Show in April 2021 and just released for sale in various markets.
Here are some key features and details about the Toyota bZ4X:
Design:
The bZ4X features a sleek and modern design, characterized by clean lines, a low and wide stance, and a crossover SUV body style. It incorporates Toyota's new design language, emphasizing a sense of dynamism and futuristic aesthetics.  Models include the XLE and Limited.
Performance:
The bZ4X will be the first Toyota vehicle to utilize the all-new e-TNGA (Toyota New Global Architecture) platform. Made specifically for Toyota electric vehicles, this structure allows for more space that you can feel in the cabin and provides a solid foundation for outstanding driving performance, ride comfort and stability for the road ahead. The unique driving experience of bZ4X comes from the way it harnesses and delivers electric power. By optimizing the force used on the acceleration pedal, you can easily tap into bZ4X's power. When you're not on the accelerator, regenerative braking will recapture lost energy while coasting and help slow you down.
Powertrain:
bZ4X takes advantage of an electric powertrain by delivering almost instantaneous torque to a drive that comes naturally. Front-wheel-drive models use one electric motor to produce 201 hp with 196 lb.-ft. of max torque, while all-wheel-drive models harness two electric motors to deliver 214 hp with 248 lb.-ft. of max torque to both axles combined.
All-Wheel Drive:
The bZ4X comes equipped with an all-wheel drive (AWD) system with X-MODE. With the push of a button, X-MODE maximizes bZ4X's AWD potential. By adjusting drive force, braking and throttle input, you'll enjoy its impressive performance in tougher conditions.
Range and Charging:
The bZ4X offers a range that allows for everyday usability and potentially long-distance travel. With an EPA-estimated driving range of up to 252 miles for front-wheel-drive models and up to 228 miles for all-wheel-drive models, you can enjoy the fun of electric driving with the confidence of knowing that it's a Toyota.
Charging is as easy as plugging in your smartphone. bZ4X includes a portable 120V (Level 1) AC charging cord that simply plugs into a standard household outlet to charge. For faster charging times, bZ4X is compatible with a 240V AC charger (Level 2) and DC Fast Charging. Take advantage of available off-peak electricity rates when charging your bZ4X. Through its touchscreen display or the Toyota app on your compatible smartphone, you can create a schedule for what time to start and stop charging while plugged in. And when you need to charge right away, just hit the "Charge Now" button to begin charging immediately.
Interior and Technology:
bZ4X's standard 12.3-in. Toyota Audio Multimedia touchscreen display seamlessly rises from the center console for a modern look. Here, you can control a variety of functions with an intuitive touch. Clearly see where you're going with turn-by-turn directions, access multimedia functions, and connect your compatible smartphone to enjoy your favorite apps, playlists and more.
The Multi-Information Display (MID) is placed right above the steering wheel, to clearly give you vehicle details, outside temperature, driver assist systems and more—all to help keep your eyes on the road ahead.
The interior exudes a feeling of warmth and comfort. Its open layout creates a cabin space that naturally provides abundant leg room for everyone and makes no compromise on convenience. Gain a sense of luxury every time you enter bZ4X. From the standard leather-wrapped steering wheel to the personalized comfort of available heated and ventilated front seats, you'll feel dedication in every detail.
Toyota Safety Sense:
Enjoy peace of mind, with smarter tech. bZ4X is the first Toyota vehicle to introduce Toyota Safety Sense™ 3.0 (TSS 3.0), which builds upon an already impressive suite of safety features, with enhanced capabilities.
Sustainability:
The bZ4X is part of Toyota's commitment to sustainability and reducing carbon emissions. The "Beyond Zero" branding signifies Toyota's focus on delivering zero-emission vehicles as part of their efforts to combat climate change and promote environmentally friendly transportation solutions.
These are just a few of many highlights of the Toyota bZ4X!  Contact Diehl Toyota of Hermitage to learn more and take advantage of Toyota's same reliability but in an all new EV!
Back to Parent Page