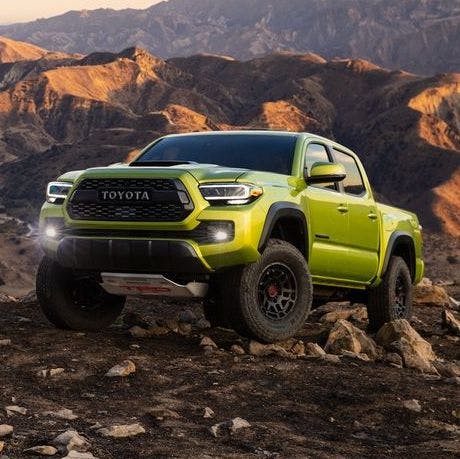 Choosing the Perfect Midsize Truck: Toyota Tacoma vs. Nissan Frontier
The Toyota Tacoma is a midsize pickup truck that is manufactured by Toyota, one of the world's leading automotive brands. The Tacoma has a long history and is known for its durability, reliability, and off-road capability. It has been a popular choice among truck buyers for both work and recreational purposes.
Here's a comparison between the Toyota Tacoma and the Nissan Frontier based on some commonly compared factors:

Design and Styling: Both the Toyota Tacoma and Nissan Frontier have distinctive exterior designs, with rugged and sporty looks. The Tacoma has a more modern and aggressive front grille design, while the Frontier has a more traditional and boxy appearance.
Performance and Powertrain: Both the Tacoma and Frontier come with a standard four-cylinder engine and offer optional V6 engines for more power. The Tacoma generally has more power and better performance, especially in its higher trim levels and with its available V6 engine options. The Frontier, on the other hand, has slightly less horsepower and torque compared to the Tacoma, which may affect its performance in certain driving conditions.
Off-road Capability: Both the Tacoma and Frontier offer off-road-oriented models with enhanced capabilities. The Tacoma's TRD Off-Road and TRD Pro trims are highly regarded for their off-road prowess, with features such as a locking rear differential, crawl control, and multi-terrain select. The Frontier's Pro-4X trim also offers some off-road features, but it may not be as capable as the Tacoma's TRD Pro trim in extreme off-road situations.
Towing and Payload Capacity: The Tacoma has a higher towing capacity compared to the Frontier in general, with a maximum towing capacity of up to 6,800 pounds, depending on the configuration. The Frontier's towing capacity is slightly lower, with a maximum of around 6,700 pounds, depending on the trim level and options. Payload capacity is also similar, with both trucks capable of carrying a similar amount of cargo in their beds.
Interior Comfort and Technology: Both the Tacoma and Frontier offer comfortable cabins, but the Tacoma has a more modern and refined interior with higher-quality materials and a more advanced infotainment system. The Frontier has a simpler interior design with fewer standard features.
Price and Value: The Nissan Frontier generally has a lower starting price compared to the Toyota Tacoma, which could make it more budget-friendly for some buyers. However, it's worth considering that the Tacoma has a reputation for better resale value, which could offset the initial price difference in the long run.
Safety Features: The Toyota Tacoma comes with a robust suite of standard safety features, including Toyota Safety Sense™ P (TSS-P), which includes pre-collision warning, automatic emergency braking, lane departure alert, and adaptive cruise control. The Nissan Frontier also offers some safety features, but they may be optional or limited depending on the trim level and model year.
Reliability: Toyota has a reputation for producing reliable vehicles, and the Tacoma is no exception. The Tacoma has consistently received high marks for reliability from various sources, including J.D. Power and Consumer Reports. While the Nissan Frontier is also generally considered reliable, the Tacoma has a slightly better track record in terms of long-term dependability.
Resale value: The Toyota Tacoma has a well-known reputation for holding its value over time. Tacomas tend to have strong resale values, which can be beneficial if you plan to sell or trade-in the vehicle in the future. The Nissan Frontier, on the other hand, has historically had lower resale values compared to the Tacoma.
Overall, the Toyota Tacoma is a popular midsize pickup truck known for its toughness, off-road capability, and reliability. It offers a range of features and configurations to suit different needs, whether it's for work or adventure.  Check out our wide selection of the Toyota Tacoma and pick out yours today!
Back to Parent Page