Why Lease or buy 2021 Toyota RAV4 in Hermitage PA
It's simple to understand why Toyota's SUVs have lead the market for three years. The 2021 Toyota RAV4 in Hermitage reveals a lineup with a bold fresh look destined to impress. The RAV4 grades now include a hybrid model, XLE and Premium. The RAV4 hybrids serving Hermitage Hubbard Mercer Youngstown have an extra stand-out known as the plug-in RAV4 Prime. Its acceleration time is the second-fastest in the entire lineup for Toyota. Further, this model offers an option to enjoy solo EV-driving. The 2021 Toyota RAV4 grades in Hermitage give drivers more bold color designs, stronger and tougher wheels, a technology that's accessible, and safety measures that soothe worries. This exciting fifth generation of RAV4s can handle rough terrains with ease while still making running errands through the city additional fun. Today, there are 13 grades of RAV4s. Five are hybrids with Powertrain technology and two featuring plug-in capabilities. All grades deliver a unique approach allowing drivers to pick by their personality or lifestyle tastes. The well-known grades, LE and XLE, are a standard model of choice. However, the Limited grade is a top-of-line edition that includes non-hybrid and regular hybrids. This year a new XLE Premium hybrid takes the stage. It's a mixture between the Limited and XLE hybrid put together. Expanding its options, the RAV4 Prime has a new sporty SE grade and an XSE version that's loaded. Both the Prime and Hybrids for the RAV4 save on gas, along with not having to plug in unless you opt for the EV-only range, which is the RAV4 Prime. The XSE hybrid fits for long and road-curvy drives but also lets you venture out when skipping to a more adventure-grade model.
*Not actual vehicle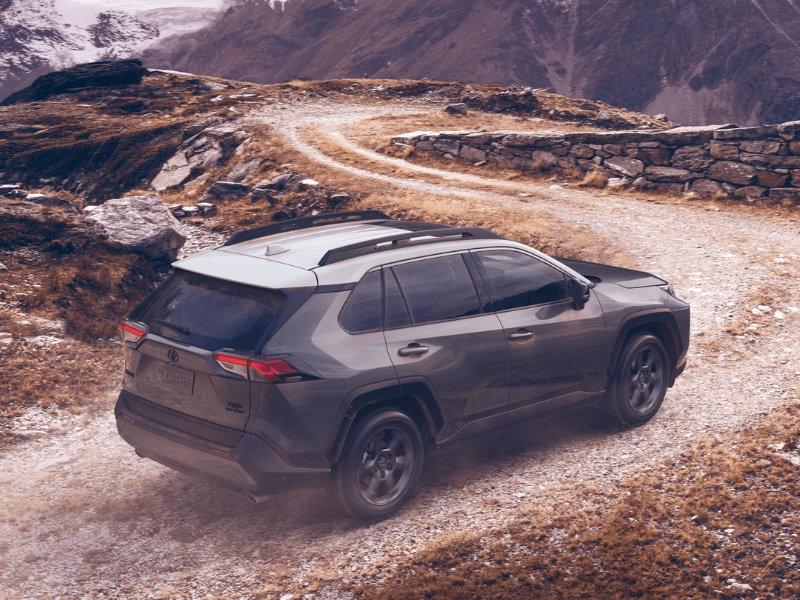 Exterior – Toyota RAV4
The 2021 Toyota RAV4 shines with an upgraded exterior that is wider and lower in dimensions. The wheelbase is longer, adding to the RAV4 presence on the road. Depending on which grade selected, it's easy to see the distinction in the body. Choices range from a sophisticated two-toned color theme, with the XSE Hybrid showing black accents and decked out alloy wheels with a chrome finishing for particular models, such as the XLE Premium Hybrid. The new RAV4 XSE Prime can use an adaptive automatic headlight system assisting with better road vision ahead. The standard package includes a new upgrade to an electric vehicle having two-toned 19in alloyed wheels, the largest in this grade by far. The off-road TRD has fancy fog lights and its own stylish alloy wheels dipped in matte-black. One significant thing the RAV4 possesses is the standard package features. All grades include folding side mirrors, guard rails, a power liftgate, and a smart key system. Those last two features appear in the XLE Premium Hybrid as well.
*Not actual vehicle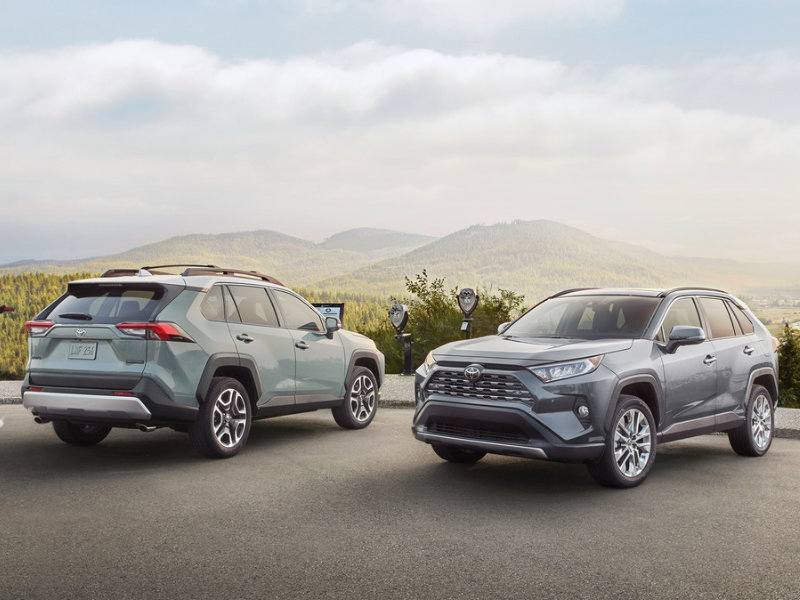 Interior – 2021 Toyota RAV4
It's about convenience and comfort when looking inside the new 2021 Toyota RAV4s. An accessible dual-zone climate control system lines the dashboard along with keeping passengers comfy from the rear vents. Further, the console has an extra space in the middle for drinks or food. The RAV4 grades use a 60/40 split for distinguishing the range of the folding and reclining seats. Both front and rear seats have heating capabilities. In the back, the RAV4 offers more ventilation from the various well-positioned vents. Inside, car grades RAV4 Prime XSE and XLE Premium Hybrid are a flashy moon roof and seats with Sof-Tex-trimming. Upgrade models allow drivers to select a different view instead, which is the panoramic moonroof.
*Not actual vehicle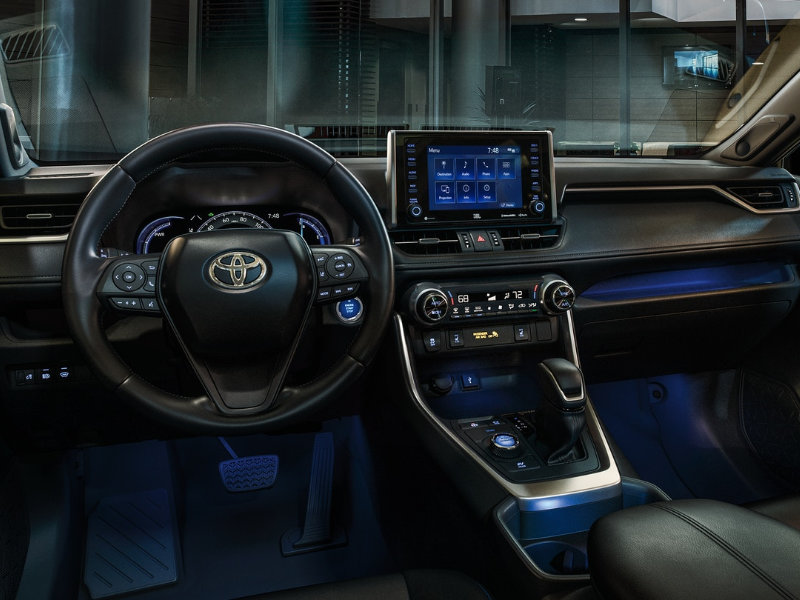 Mechanical – 2021 Toyota RAV4
Diehl Toyota internet specials reveal a lineup of RAV4s with a powerful engine and hybrid models. All model grades fall on the TNGA platform. On the higher end, the RAV4 Prime has a hybrid-electric Powertrain engine pushing its presence over the road even higher. This engine has a net horsepower of 302, which is 83 horsepower over the RAV4 Hybrid. The Prime is the fastest ever made at this point, going from 0 to 60 miles per hour in just under 6 seconds. As a plug-in Hybrid, on EV-only range, it gets upward to 42 miles. The RAV4 has three selections for all-wheel-drive models.
*Not actual vehicle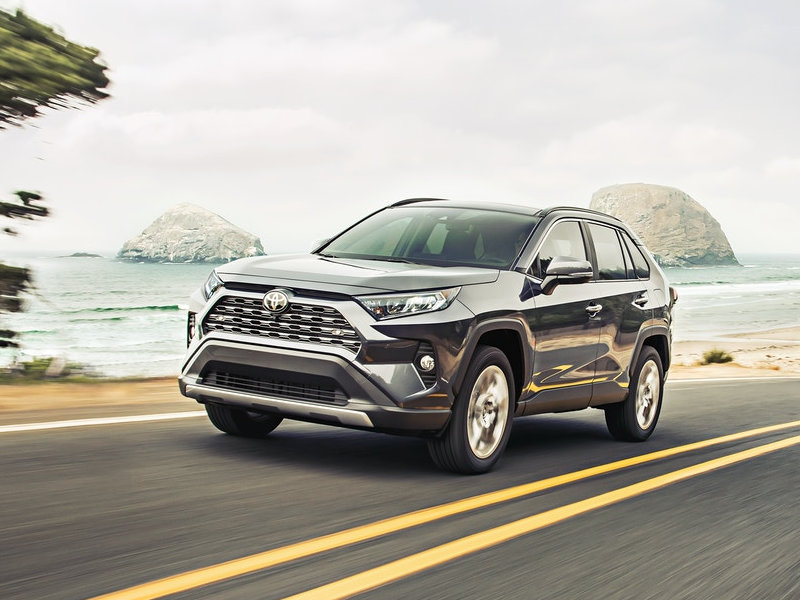 The Technology & Safety Features – 2021 Toyota RAV4
The 2021 Toyota RAV4 technology offers exciting features that help understand why this new lineup stands out. Choose between an Audio Media System that has 7 or 8 in displays parked on the dashboard. In the RAV4 Prime XSE, which is the largest to date, sits a Multi-media touchscreen of about 9 inches. All grades and their standard packages have AppleCarPlay. This keeps drivers in touch with music playlists, messages, maps, and options to add other iPhone apps. Andriod users can also enjoy attaching their devices through mobile or tablet connections. 2021 Toyota RAV4 in Hermitage has smart safety tech as shown in all models that have 8 airbags, a Blind spot monitor, Road Side assist, Toyota's Safety Sense System, Lane departure alert, and a pre-collision system, to name a few. The Prime RAV4 helps with seeing view objects with the premiere scan offering a birds-eye view.
Request 2021 Toyota RAV4 Specials in Hermitage serving Grove City, New Castle PA
Diehl Toyota of Hermitage internet specials serving Hermitage Hubbard Mercer Youngstown offers impressive choices among the new 2021 RAV4s. A powerful lineup includes a hybrid model, XLE, and Premium. Exteriors reveal wider dimensions, black matted alloy wheels, and two-toned trims. Interiors have more vents and room to move around, with great console storage. The RAV4's attractive technology has good-sized touch screen displays, Audio Media Systems, along with being iPhone and Android friendly.