Why Lease or buy 2021 Toyota Camry in Hermitage PA
If you want a vigorous and reliable car with impressive performance, the 2021 Toyota Camrys in Hermitage fits the bill. The new Camry lineup serving Hermitage Hubbard Mercer Youngstown is stylish enough for onlookers to admire its sleek body design. Leading in the Sedan market for 40 years, Camry keeps its promise on delivering new powerful grades of cars. It's an iconic vehicle that's held the prestigious title of the "best-selling car in 2002." The 2021 Toyota Camry in Hermitage has drivers looking forward to new suspensions, relatable technology, trendy wheels, and slick colors. The 2021 Toyota Camry has two grades in its lineup, L and Sporty. Both offer an All-wheel drive system, torque control, or a productive Hybrid model. For those wanting a sports car feel, the XSE Hybrid stands out by harboring well-placed features. From there, Camry unfolds two impressive special edition models, the SE Nightshade and TRD.
*Not actual vehicle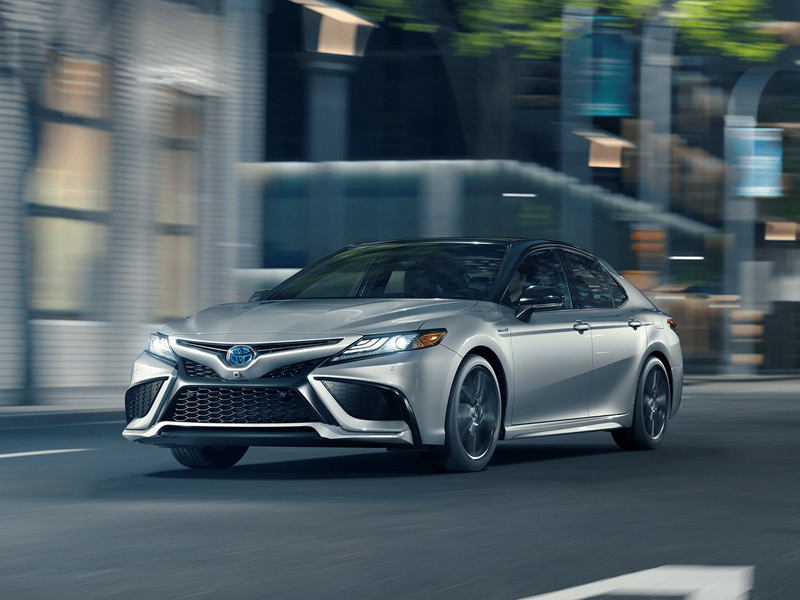 Exterior – Toyota Camry
For 2021 grades, LE and XLE, drivers will see the revamped fascia shape on the car's front grille. All grades have redesigned wheels along with an incorporated all-wheel drive. As for XE and XLS models, there's a honeycomb front grille with much lower placement and trendy wheel updates. There are slight style differences among the grades. This allows drivers to select cars to match their distinct personal tastes. The All standard Camry XLE grade shows off a chrome-finished exhaust with 18in alloy wheels. It gets better with the XSE hybrid's dual-tipped flashy exhaust, daytime running LED headlights, well-designed taillights, 19in alloy wheels, and standout black accents. This gives the car more presence on the road and something to boast about as a driver. Camry's special edition SE Nightshade has a stylish black trim match-up that continues to the wheels, badges, mirror caps, and handles to mention a few. If the TRD is your choice, then enjoy the hip all-black matte coloring on the 19in alloy wheels, a raised spoiler, and a glass Aero Kit. Touching up the overall look are bright brake calipers in shiny red. With its gritty trim, the TRD has high-performance capabilities and a vivid design showing a tough mechanical presence.
*Not actual vehicle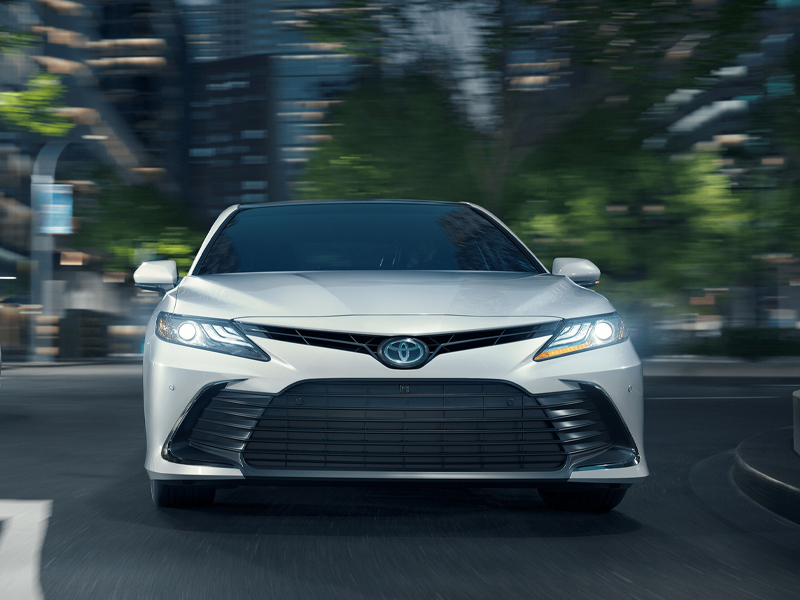 The Technology & Safety Features – 2021 Toyota Camry
To top off Camry's interior upgrades is its stunning technology. A flashy 9in touch screen sticks out from the dashboard, helping with media control and access. Drivers can opt to enhance speakers to 9 new ones through a more dynamic JBL system, giving you more base through a Subwoofer. Whichever touch screen size one chooses, there is a list of features the Audio Media System offers. Off the top is the connectivity to AppleCarPlay. This keeps drivers in touch with their favorite music, messages, maps, and other apps stored on anyone's iPhone. Camry's new interior is also user-friendly to those with Androids, whether using a cell or tablet. Car safety includes 10 standard airbags matched with Toyota's Star Safety System. Look for increased traction control, anti-lock and clever assist-brakes along with a backup camera in all vehicles.
Enjoy having Amazon Alexa during your drives using the Amazon Assistant to plan meals or continue listening to your best podcast. As a subscriber, take advantage of the 3-month free trial when using SiriusXM. The 2021 Toyota Camry in Hermitage hits its mark with technologies offering smart connective services and adding more regarding convenience during usage. Interior head-up displays range from 7 to 10 inches for great viewing. Drivers have access to a functional multi-information display at their fingertips. QiWireless charging makes it easier for all smartphone users on the go.
Request 2021 Toyota Camry Specials in Hermitage serving Grove City, New Castle PA