Exterior – Toyota Tundra
The thick chainlink grille of the Tundra is but one of its many standout features. It's outfitted with 18-inch or 20-inch alloy wheels, so you get a wide and tall stance that communicates a dominating personality. It's a truck that looks like it's about to stomp through a city and take it over. And it just might. More off-road trims get an elevated suspension system finely tuned for off-road duty and BBS wheels. Depending on the trim you select, you'll get brilliant LED headlights, fog lights, and a power sunroof (for starters). It's an exterior that reflects the true legacy of the Tundra. And it'll be around a long time from now.
*Not actual vehicle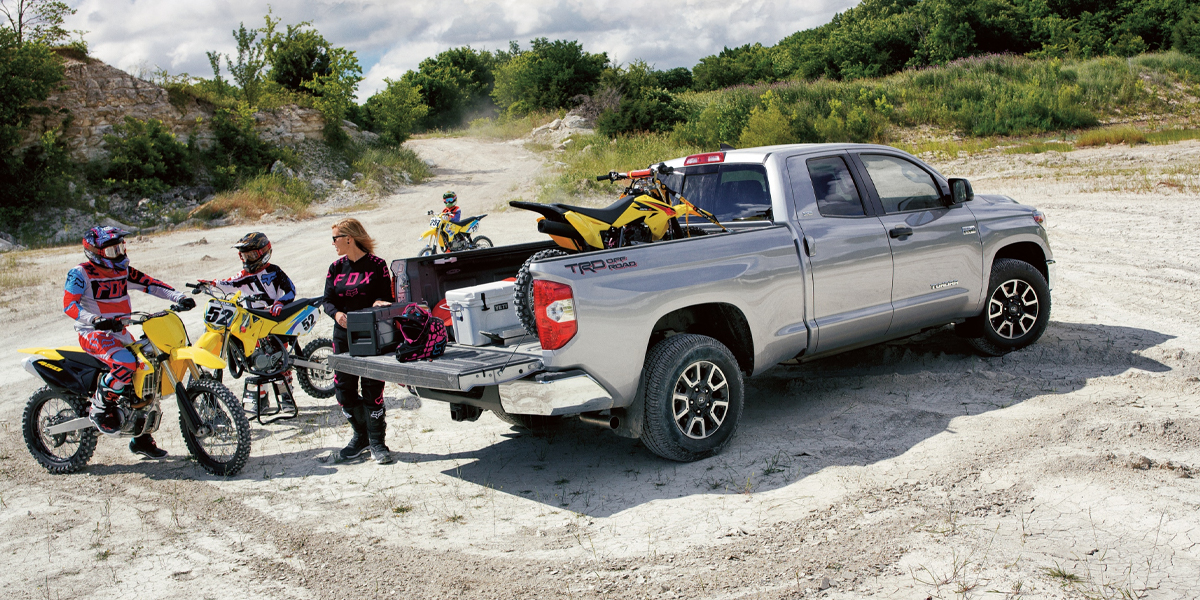 The Technology & Safety Features – 2020 Toyota Tundra
Big time tech additions are on the Tundra this year. You get an 8-inch touchscreen infotainment system that gives you major amounts of utility as well thanks to diverse camera angles and the opportunity to benefit from its trailering assistance. You're going to love the huge premium audio system on the Tundra as well. It's one of the best test lineups for the Tundra yet, with standard Apple CarPlay and Android Auto and a host of connectivity features that let you benefit from an ultra modern pickup truck. Welcome to the 21st century Tundra! We're glad to see you made it here in style.
Safety features on the Tundra are just as upgraded and diverse. You'll have pre-collision systems that can automatically adjust steering and braking in the event that the driver fails to correct an error. Sensors monitor all around the truck to alert you to any threats in your blind zones or behind your vehicle. Parking assist features and automatic emergency braking are also available. It's a well-rounded safety system for a well-rounded truck. These features are especially important if you live in a very crowded area of the world.
Trim Levels
SR
SR5
Limited
Platinum
1794 Edition
While we love the base model and consider it one of the best base models available right now, we want to mention the 1794 Edition briefly. This is a special one for Toyota, and I know that anyone who appreciates the rich history of the Tundra will be especially glad to pick that one up. They've really given you something special here, with distinct badging and upscale features that pay tribute to the Tundra in every way. It's a tribute to you as well, their loyal customers. Ask us about the 1794 Edition or any other trim that catches your eye. There are no wrong choices in this stellar lineup.
Request 2020 Toyota Tundra Specials in Hermitage serving Pittsburgh, New Castle PA
Diehl Toyota of Hermitage specials on the 2020 Tundra are ongoing right now, and we'd love to have you visit us and check out everything we have in mind for your savings. Just give us a call today to come in and see the brand new Toyota Tundra. We know you're going to see it the way we do: as the best Tundra yet. Just call today to ask us questions about it or to schedule your first test drive!