Why Lease or buy 2020 Toyota Highlander near Pittsburgh PA
The 2020 Highlander is a completely new beast this year. It falls in the mid-size crossover market, and we all know how cutthroat that segment is. Just getting five minutes of attention if you're a mid-size vehicle is a pretty much full-time job, but the Highlander makes it look easy. Toyota promised us a head-turning new design, and they delivered on that promise both on the revamped exterior and the much nicer interior as well. Luxury options abound. Best of all, it has a brand new powertrain that's going to power you forward into a more modern driving style. We invite you to meet your new 2020 Toyota Highlander near Pittsburgh.
*Not actual vehicle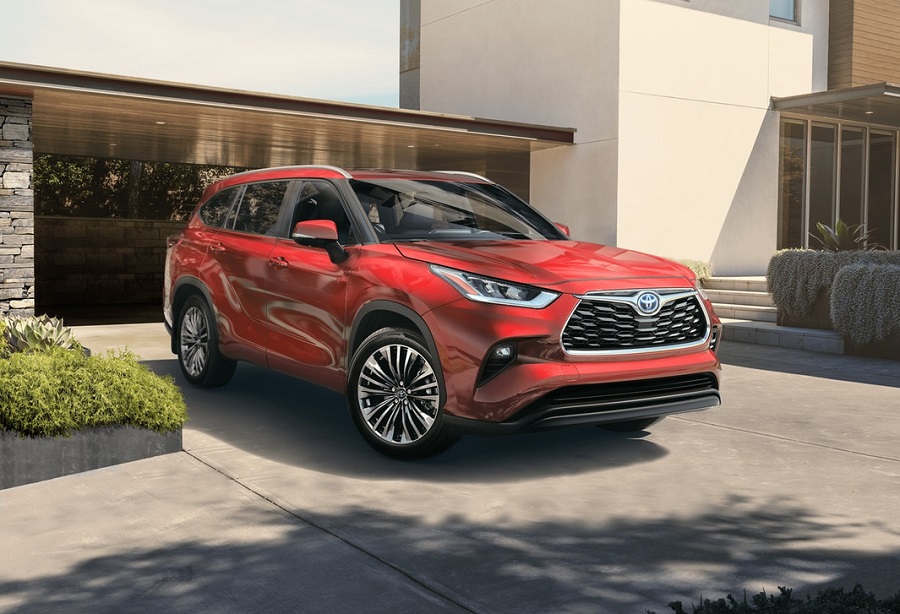 Exterior – Toyota Highlander
The big, bold sloping arch below the Highlander's grille is just the first in a series of design choices that make this family crossover relevant again. It's a sharp look that draws attention to the entire grille design, too. It's a blacked out grille with a new attitude, and if you had to describe the look of the new Highlander, that's exactly what you might call attention to. It's Toyota realizing that it was time for an overhaul, and then they completely revamped just everything on the exterior to be more standout. Choose from bold color options this year such as Midnight Black and Celestial Silver Metallic and get a more sophisticated Highlander.
*Not actual vehicle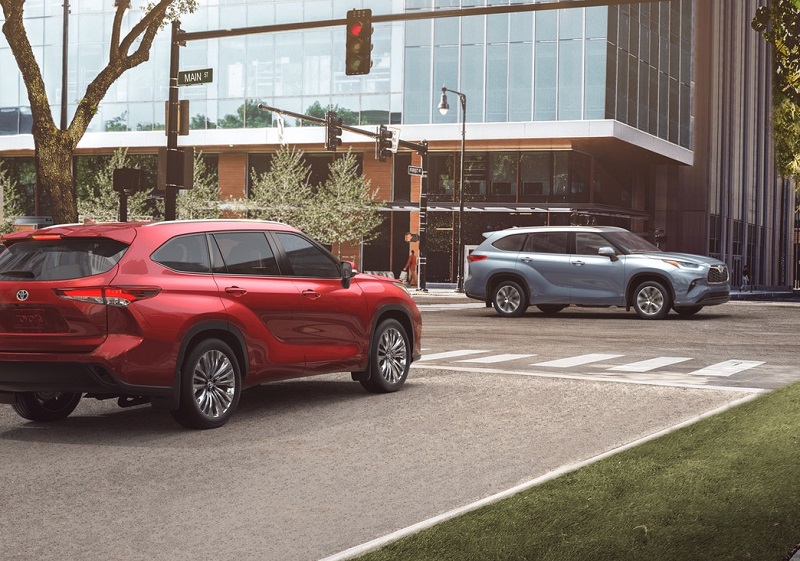 The Technology & Safety Features – 2020 Toyota Highlander
The Platinum trim stands out for technology as well. With a 12.3″ touchscreen display, it's one of the largest in the business, and Toyota gave you a fantastic split screen function to really organize your tech priorities and get things done while you're on the go. With Apple CarPlay and Android Auto standard, you have the ability to seamlessly integrate your phone's information with your Highlander. The XLE also has a nice 7-inch multi-information setup that lets you keep track of your Highlander's functions in crystal clear depth. Overall, the technology of the cabin fits in perfectly with the upscale new attitude of the Highlander this year. For premium tech, opt for the Platinum trim. Diehl Toyota of Hermitage specials can help you bump up your trim.
Our favorite safety features are worth mentioning here on the Highlander. Its pre-collision system with pedestrian detection will prove especially handy to those of you out there who live in pedestrian-heavy suburbs. It's always nerve-racking to back out of a driveway. Not knowing what's behind you or facing blind spots in a mid-size crossover used to be overwhelming. Now you've got added camera angles on the Highlander to help you see behind you, as well as that pedestrian detection system that can adjust your braking and keep you from getting into any kind of accident related to this situation. Full-range adaptive cruise control is another safety/convenience features that can really help to avoid fender benders in busy traffic situations. Set your distance, sit back, and relax.
Trim Levels
L, LE, XLE, Limited, and Platinum trims are available this year. If you need the peak of luxury on your Highlander, Toyota made it possible. It's not cheap by any means, but with our specials in hand, you can grab the Platinum trim and still have room leftover to enjoy life.
Request 2020 Toyota Highlander Specials in Hermitage serving Pittsburgh, New Castle PA
The 2020 Toyota Highlander's Platinum trim and hugely powerful engine make it one of the mid-size crossover market's highlights this year. Don't overlook it. Call us today to get more information about the Highlander or to simply as for a test drive. We're serving Pittsburgh New Castle Mercer customers with free Highlander test drives all year long.